A mug with a high return on investment.
Code Brew Mugs are a collection of mugs made with the intention of making you a better at whatever technology you're learning. We understand first hand that the first stages of learning a new language or technology involve lots of forgetting, frequent mistakes, and many Google searches. That's why we released these mugs.
We wanted something programmers could reference frequently while in the most important stages of using a technology: the learning stage. Every mug that gets released is thoroughly researched to make sure that only the most relevant information is included on each mug.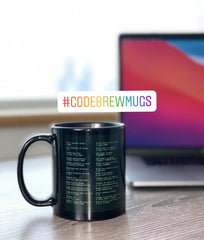 Win Cool Prizes
Use Hashtag #CODEBREWMUGS to be featured in our posts and stories on our Facebook and Instagram pages. Also, our customers may win cool prizes for best photos and videos using our products.
Visit Our Instagram